Some of the places we've performed for include:
Companies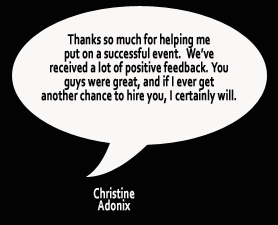 Bayer Corporation
UPS
U.S. Steel
Northside Foods
State Farm Insurance
Accenture
Fantastic Sam's
Sheetz
Philip Marlowe
U.P.S.
Pittsburgh Zoo
Nova Chemicals
Ace Hardware
American Eagle
ALCOA
Lifespan
Ameritech
Meadville Credit Union
Datum Filing
Westinghouse
Ferracio Family Markets
Kennametal
R.J. Reynolds
Westinghouse
American Ordinance
Lanxess
Schools & Universities
Carnegie Mellon University
University of Pittsburgh
Incarnation Academy
Robert Morris College
LaRoche College
Duquesne University
Slippery Rock University
California University
Community College of Allegheny County
East Liverpool Christian School
Gateway High School
Grace Bible Academy
Churches & Synagogues
Southern Baptist Church
St. Thomas More Church
Christ Lutheran Church
Poale Zedeck Synagogue
St. Anne's Church
St. Bartholomew's Church
St. Sylvester's Church
South Hills Assembly Church
Organizations
Oakmont Women's Club
Monroeville Women's Club
St. Jude Golf Club
Pitcairn Fire Department
Windber Golf Club
Alcoma Golf Club
Penn Aqua Swim Club
Diamond Run Country Club
Armstrong Chamber of Commerce
Franklin Volunteer Fire Department
Girl Scouts of America
New Castle Women's Club
Red Hats Society
Greentree Rotary
Schottisch Rites
Pittsburgh Republicans
Lutherlynn Camp
United Cerebral Palsy
Bethel Park Volunteer Fire Department
Mon Valley AIDS Task Force
Masionic Village
Brackenridge Country Club
Treesdale Country Club
River's Club
Jonah & the Whale
Monroeville Republicans
Crosscreek County Park & Recreation Committee
Indiana Rotary Club
Dormont Development Corp.
Libraries
Upper St. Clair Library
Garfield Heights Library
Scot Township Library
Northland Public Library
West Allegheny Library
North Versailles Library
Baldwin Library
Carnegie Library
Edgewood Public Library
Castle Shannon Library
Shaler Library

Restaurants
The Spaghetti Warehouse
North Park Lounge Clubhouse
Froggy's
The New Hotel Beacon
Marriot Hotel, Greentree
Portobello's Restaurant
Gene's Last Chance
Sleepy Hollow Inn
Doc's, Ford City
Del's Bar & Restaurant
Foggy Mountain Lodge
North Park Lounge Deckhouse
Northwoods Inn of Lake Placid
DeRosa's Restaurant
Seven Springs Resort
Sewickley Country Inn
James Street Restaurant
Ligonier Tavern
Rose Garden Inn
Neal's Family Restaurant
Back Porch Restaurant
Nemacolin Woodlands
Spaghetti & Steakhouse
Ramada Inn Ligonier
King of the Hill Restaurant
Sweeney's Cafe
CLO Cabaret
Karandante's
Gateway Clipper
Trenny's Grill
Merrill's Landing
Atria's
Shakespeare's Pub
Brady's Family Restaurant
Mountain View Inn
Rock Bottom
Two Great Chefs
Lingrow Farms
and hundreds of parties for other corporations, organizations, and individuals!