Why Add Mystery's Most Wanted to Your Venue?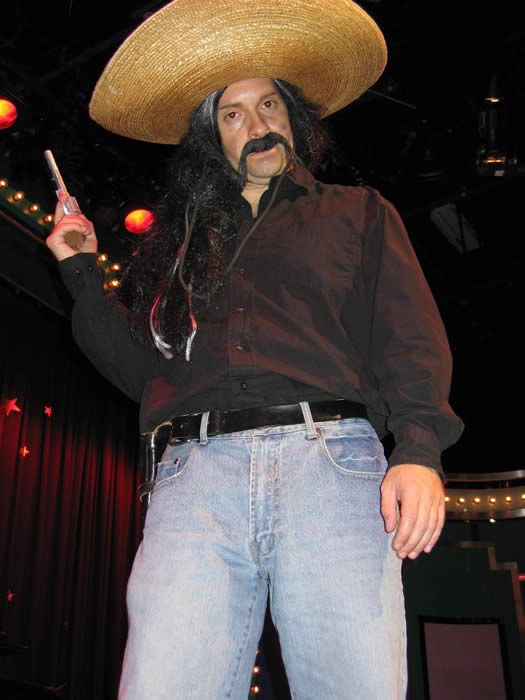 *Entertainment increases the appeal of your business and encourages a diverse clientele.
*Entertainment boosts patronage during slow seasons and on weekday nights.
*The variety of shows we have to offer and the frequency with which we change shows and add new ones encourages repeat business.
*Specialized entertainment attracts special events to your business -- corporations and private celebrations are more likely to use your services if they know they have a unique entertainment option available to them.
*We have a proven fan-base that has been attending our performances since 1994. From ritzy national corporations to more humble bowling leagues, Mystery's Most Wanted is the choice year after year for quality entertainment.
*Free publicity. Our widely distributed fliers, ads, mailers, programs, and website will list the name of your venue, contact information, and location for free.
*We're easy to get along with. You have enough on your plate without having to worry about a bunch of divas taking over the joint whenever there's a show. Many of us used to work in food service, so we have a lot of respect for what you and your staff are going through. That mutual respect has led to a number of long-term relationships for us -- we've been performing at some of our venues since our company first started. That's longer than a lot of marriages last!
*We do all the work; all your staff needs to do is serve the food and take the money.
*We have our own scripts, programs, costumes, actors, and director -- all we need is your food and space.
*Our appeal is diverse; we have performed for a vast variety of locations, from four star restaurants and country clubs to family style chains.
*We are the most highly regarded dinner theatre company in Western Pennsylvania; our shows are first class, unique evenings of entertainment lauded by audiences and critics alike.
But don't just believe us -- come see one of our shows and see for yourself why Mystery's Most Wanted is the right choice for your business!