Randy Alan Oliva, Managing Director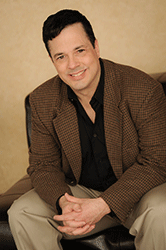 A native of Chicago, Randy Alan Oliva spent 5 years in NYC, managing a laundry facility in the morning and studying acting in the evenings. Not to mention being turned down for everything else in between. In 1992 he arrived in Pittsburgh and since then has been very active in Pittsburgh's local theater scene. Randy has had leading roles in The Philadelphia Story, Jeffery, Once in a Lifetime, Little Shop of Horrors, Beauty and the Beast and The Fellowship of Actors and Directors. He has also had the privilege of performing the lead in the off Broadway production of Cowboy Void. Randy's mug has been seen in local and national commercials where he's been recognized for stealing cable, singing Karaoke, selling meat, comforting a dying wife, along with a long list of bank and supermarket commercials. His film credits include a PBS production on domestic violence entitled, "The Other Side of The River", played a senator for the History Channel documentary, "Mysteries of Steel". Along with playing a literary agent in the full length feature,"A Fancy Piece of Homicide". He has also had the good fortune of being seen in film festivals around the world in his shorts, U: The Underwood Company and the comedy, "Soul Mates."
During the school year, Randy tours with educational shows for Shakespeare in the Schools, Gateway to the Arts, and Little Lake Theater outreach programs. He currently tours with and teaches for Gemini Theater. In 1995, Randy started Mystery's Most Wanted, where he and his talented cast are seen throughout PA., Ohio, Maryland, New York and Chicago -- not bad for a boy who used to spend his days folding skivies and searching for loose change in jeans. But that's a different story...