Laura Wagner Bondi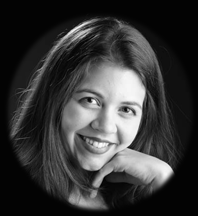 Laura's sister was in the after-school drama club. So, Laura started acting in first grade simply because she wanted to copy everything her big sister did…and has never stopped acting since. Thanks sis!
Laura is a native of Pittsburgh but ventured west in her early twenties for a change of scenery. While commuting from her one room log cabin in the wilds of western Montana to campus everyday, she eventually received her degree in Theatre Education from the University of Montana, in Missoula, Montana.
Upon returning home to the Pitts., she gave birth to her son, whom she suspects is really a monkey disguised as an angelic baby boy. She performs all over the Pittsburgh area and is involved in several local theatre groups. She also teaches acting at Act One Theatre School and travels with Little Lake Theatre's Educational Outreach Program. When not with her son, or educating other peoples' children, she prostitutes herself as a bagpiper. (She will play her pipes if you pay her!) She also marches with the MacDonald Pipe Band of Pittsburgh. Look for her in the St. Patty's Day Parade!