Christopher Bondi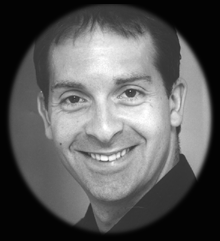 Christopher Bondi was overtaken by an urge to perform in high school and hasn't recovered since, causing some family and friends to wonder whether he's ever going to grow up. He thinks it may be a lost cause.

A 1997 graduate of Slippery Rock University with a BA in Theatre, Chris has spent his time since college, acting, directing, teaching, and writing. He has performed with Little Lake Theatre, Penn Avenue Theatre, Red Barn Theatre, Pittsburgh Irish and Classical Theatre, Unseam'd Shakespeare and others in the Pittsburgh area. He has also performed and directed for the Pittsburgh New Works Festival. In 2002 he directed the one act play Shakespeare on Drugs which wound up being award the outstanding production for that season.* He can be seen in a number of local commercials, and is most heavily recognized as "that guy from the cable commercial." Along with Randy, he appears in in the short film U: The Underwood Company which will be in the 2008 Cannes film festival.

But some of the most enjoyable times he has had in his acting career have been while performing with MMW. He maintains that he often struggles to keep up with Randy, Steve, and Kathy and is usually trying to suppress laughter from their on-stage ad-libs.

Chris's top five favorite things (in no particular order) are: Steelers Sunday, a great glass of merlot, the ocean at dusk, The Beatles, and slow dancing with a lovely female partner.

*Incidentally, Chris's production beat Kathy and Randy's production, an upset they have never fully recovered from. We will get you, Bondi, when you least expect it.